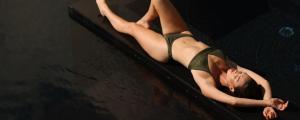 Sunbed
Tanning
Whether you're going for that I-just-got-back-from-Mykonos look or a subtle sun-touched shimmer, the Beauty Consultants at Palm Beach Tan will help you achieve your ideal shade.
How Do We Tan?
Tanning happens when your skin is exposed to two different kinds of UV light: UVA and UVB. UVA oxidizes melanin, the pigment that gives your skin its tone, while UVB triggers melanin production. Both types of UV play an important role in the tanning process, and getting the balance right is crucial to a good look.
Join Us. Tan Wisely.®
The sun has been considered a symbol of vitality for millennia, and for good reason: its light energizes and stimulates not only our world, but us as well. But, like anything else, it's important to enjoy it responsibly. Speak with one of our Tanning Experts and we'll make sure you have a tanning program that is both responsible and achieves results.
Golden

Rules of Tanning

At Palm Beach Tan, we've built our Tan Wisely initiative around the recommendations of the FDA. That means 24 hours of rest for your skin between sunbed sessions. This period gives your skin crucial time to build color between tanning sessions. Believe it or not, giving yourself 24 hours between sessions will actually maximize your color development.