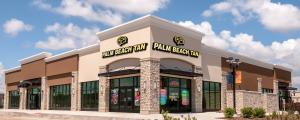 Franchise Opportunities
Palm Beach Tan Brand
Thanks for your interest in Palm Beach Tan!
Our 30-year track record of growth comes from one simple rule — always put the customer first. This includes not only our first-in-class salon customer experience, but also how we build relationships with our members online. Let's face it — customer expectations are constantly evolving. It's up to us to stay tuned and deliver what our members want. Gone are the days of men and women wanting to be as dark as possible. Now, beauty is all about building confidence, finding the best you, being comfortable in your own skin. We've built our company around a total customer-centric approach — providing the equipment, services and value desired by today's customers.
Our members experience state-of-the-art sunbeds and sunless tanning options, along with our own customized line of tanning and skincare products, supported by the most extensively trained tanning consultants in the industry. We provide a place where clients can achieve their beauty goals while always tanning wisely. That's just how we do it. It's why we are now America's number one tanning salon chain with company-owned and franchise-owned salons located from coast to coast.
We invite you to learn more. If you're looking for a solid and stable franchise opportunity in the rewarding fashion and personal services space, or if you are an existing tanning salon owner looking for more support by converting to the fastest growing brand in the industry, we'd love to hear from you. Just fill out this form or call our corporate office at 866-728-2450. We'd love to get to know you.
Downloads
We make our Franchise Disclosure Document ("FDD") available to you in electronic format. The electronic copy of the FDD that we provide is in PDF format, so you will need Adobe Acrobat software in order to view and print the FDD. We will also provide a paper copy of the FDD upon request.
The materials on this website regarding the Palm Beach Tan franchise opportunity are for general information only and are not intended to be a franchise offer to anyone accessing this site. Offers are made only after delivery of an effective Franchise Offering Circular in compliance with applicable federal and state laws.
Thanks for being interested in becoming a Palm Beach Tan Franchisee!
An email or phone response to your request will be provided to you within 24-48 hours.
* Please note, in the event you do not receive our response, you may need to check your spam/junk folder.